Adonia is back in the P&O Cruises club!




Refresh your browser every 60 seconds for a new image
Welcome back, Adonia
In 2016, Adonia – the smallest of the P&O Cruises ships – was reassigned to a new venture with cruise line Fathom. From June 2017, P&O Cruises is thrilled to welcome Adonia back to its fleet.
The smallest of our eight ships, Adonia offers a delightfully intimate, adult-only cruising experience. As she carries just 710 guests, Adonia is a very sociable ship, where strangers become familiar faces, then warm friends, in no time.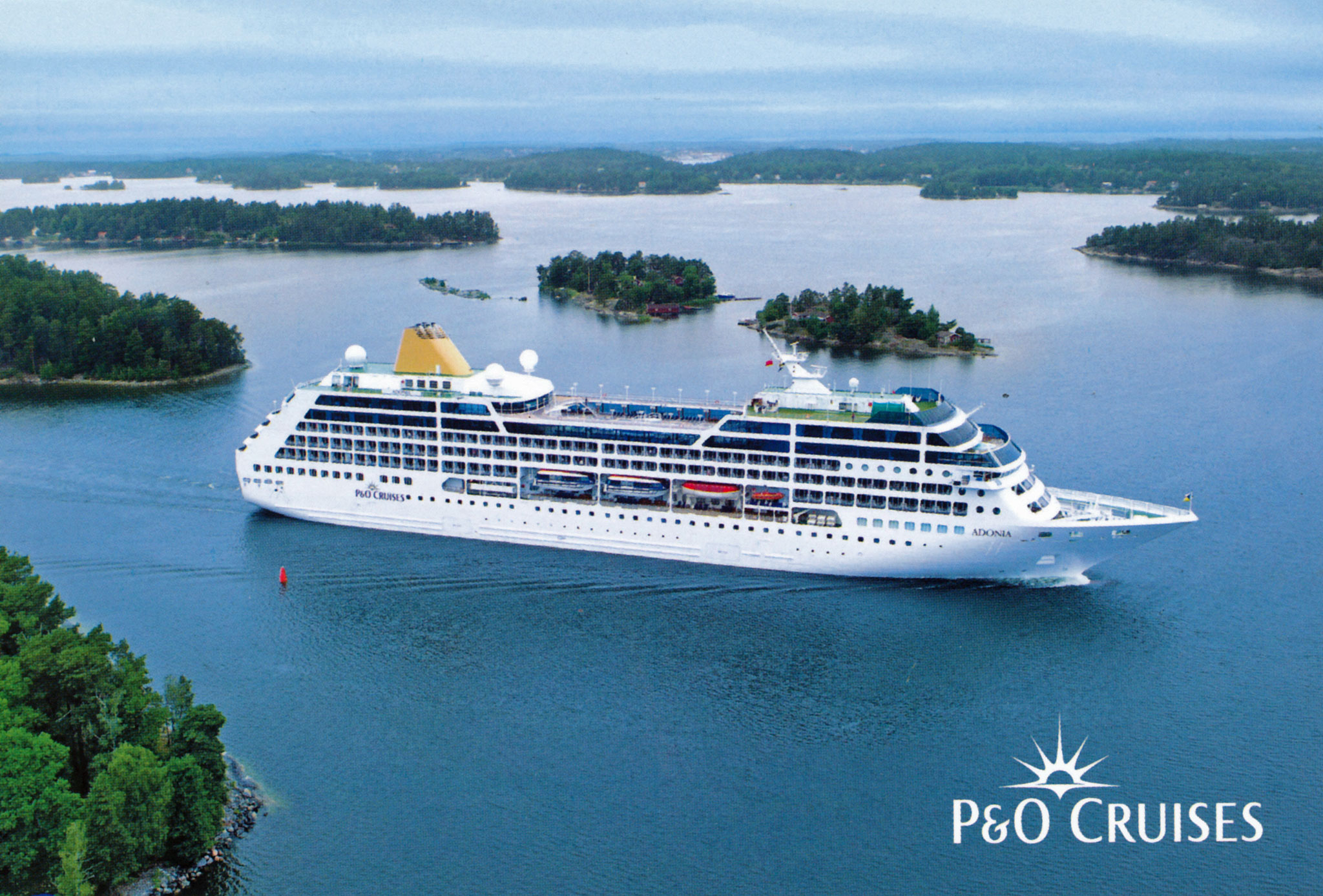 Small is beautiful
Her wood panelling, grand staircase and traditional feel mean her atmosphere and décor are in keeping with the traditions of cruising. Awash with charming traditional style, we've recently refreshed and updated her soft furnishings, and added lighter fabrics for a brighter look. And, being a 21st century ship, she has beautifully crafted, modern facilities as well.
Life on board Adonia
Your days – and nights – on Adonia can be as relaxed or eventful as you want. From pub quizzes to sports tournaments, dance lessons to informative talks and interactive demonstrations, you'll be spoilt for choice. Or, when you just want to relax with a good book and do nothing at all, there are plenty of comfortable sun loungers outside and easy chairs inside to tuck yourself up in. 
There's never a dull moment on board Adonia, when it comes to entertainment and things to do we've something for everyone.
Curzon Lounge
In keeping with the timeless quality of Adonia, The Curzon Lounge harks back to an age where dances were the norm. Boasting a beautiful parquet dance floor and room for a live band, The Curzon Lounge is the perfect dance setting. In the evening, the space is transformed into a buzzing classic entertainment lounge, with dazzling performances guaranteed to wow you.
The Card Room
Adonia's impressive card room wouldn't be out of place in an exclusive member's club. Dark wood furniture and baize covered tables create the perfect card playing atmosphere. During the day large windows let in lots of natural light, and in the evening heavy curtains create an intimate atmosphere perfect for the high drama of the cards.
Outdoor cinema
New to Adonia is an intimate outdoor cinema on the Lido deck. Perfect for snuggling up with movie snacks and catching the latest release or losing yourself in an old classic.
The Library
Adonia's library is the perfect place to escape with a good book.Featuring a full size fireplace, stunning painted ceiling and an abundance of comfortable chairs, the extensive collection of books held here covers everything from the latest fiction through to travel books and atlases to allow you to plan your days ashore.
Mayfair
For a complete shopping experience, head to Mayfair. Stocking collections of top quality clothes from well-known designers, P&O Cruises branded merchandise and beautiful items to commemorate your holiday, this is where to head for retail therapy.
Emporium
A great place to stock up on any little extras Perhaps you're looking for something small that you've forgotten, or want to buy a few treats or pick up P&O Cruises souvenirs? If so, the Emporium is open every day.
Gym
Adonia's gym is equipped with all the state of the art equipment you'd find in a gym ashore. Friendly instructors are on hand to show you how to use any pieces of equipment and suggest a programme suited to you. The gym also boasts a large studio area where a range of fitness classes are held throughout the day.
Discover the world less-travelled
Adonia's smaller proportions mean she can visit destinations her bigger sisters cannot sail into. So, your travel experience on Adonia is more in-depth and off-the-beaten-track, with some classic ports thrown in for good measure. Why not choose one of her Discovery cruises to unleash your inner explorer?
Enjoy world class dining on board Adonia
A little peckish? Adonia serves up wonderful dining with ocean views in the Ocean Grill, while Marco Pierre White's five course gala dinner is set to delight in the Pacific Restaurant. There's also the exciting introduction of wine guru, Olly Smith's The Glass House, where food and wine are flawlessly matched. And, for food without formality, just make your way to The Conservatory buffet or Lido Café.
Pacific Restaurant 
In Adonia's main restaurant you can enjoy sumptuous food, served by our friendly and efficient waiters. Your surroundings perfectly match the food – sumptuous, luxurious and, above all, the highest possible quality.
Lido Café
The Lido Café offers great food in a relaxed, outdoor setting. Serving freshly cooked favourites such as succulent burgers and fish & chips, the Lido café offers a relaxed alternative dining experience throughout the day.
The Glass House
Situated along the port side of Sun Deck, with expansive ocean views, is The Glass House, where wine guru Olly Smith ensures the wine is a flawless match for the food.
Ocean Grill
The Ocean Grill serves up dining that's as stunning as the views. Situated on the Sun Deck, the best seats in the house are those with views across the aft (that's if you can bear to tear your eyes away from your plate). Expect dishes like baked Portobello mushroom with spinach leaf and pecan salad and salt marsh lamb rack with dauphinoise potatoes, crushed minted peas and a romarin scented jus. And of course no self-respecting grill would be complete without succulent steaks.
Conservatory & Bar
Adonia's light and airy buffet restaurant makes for a comfortable and relaxed dining venue. With a large choice of freshly prepared dishes throughout the day and evening, the Conservatory is a firm favourite. And with a large outside dining area, this is the perfect place to enjoy the sun with a spot of lunch or watch the sun go down over dinner.
Venues on board Adonia
Adonia exudes small ship charm with an intimate ambience and everything a discerning cruiser could want. Enjoy a delicious cocktail before dinner in Anderson's or join in on a game in the sophisticated Card Room.

Anderson's
After a day exploring, relax with a glass of wine, cocktail or beer in Anderson's. This intimate bar features comfortable seating, full length windows and a grand piano making Anderson's the perfect place to unwind and perhaps share stories with new-found friends.
The Crow's Nest
The Crow's Nest is the perfect spot for a pre or post dinner drink. With elevated views from the top of Adonia, live music and a large selection of drinks available, you'll be in for a fantastic evening. Full height windows offer a panoramic view of the ocean, making The Crow's Nest an ideal spot to watch the sun dip below the horizon.
Raffles
Raffles is the daytime hub of Adonia. You'll find fresh coffee and delicious snacks served through the day, and in the evening you can enjoy delicious cocktails expertly prepared by friendly bar staff.
Crystal Bar
Serving the Crystal Pool, this bar offers a wide selection of alcoholic and soft drinks right next to your sun lounger.Friendly bar staff create a relaxed holiday atmosphere around the bar, and waiters will happily bring your drinks order to you around the pool.
Accommodation on Adonia
When it's time for bed (or a siesta – you're on holiday, after all), Adonia's cabins offer a haven of comfort, with their new lighter fabrics lending a brighter look.
Pick from a wide choice of en suite, air conditioned accommodation: Suites, with lounge and spacious balcony, Balcony cabins, Outside cabins with picture window, and Inside cabins, all with two lower beds convertible to king size bed† All feature free tea & coffee making facilities, refrigerator, hairdryer and safe. You will also enjoy the services of a personal cabin steward who will look after your every need.